Last updated 2011-05-31
News
2008-02-13
According the GVOP 3.3.3. -05/3. 2006-04 0141 /3.0 government support contract we developed and built in due time the T-Network EMC Lab. Now there is the trial test period. From March 2008 we undertake to perform the conventional EMC tests (among others RF immunity, RF emission, conducted noises, immunity against the conducted noises). We have a "fully compliance" 3 m test distance semi anechoic chamber for RF emission tests. Furthermore we have a 3 m test distance fully anechoic chamber for RF immunity tests and for RF emission precompliance tests.
For more information please contact us or see the detailed information page!
>>> Details <<<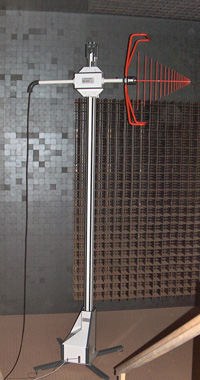 2007-09-27
The new, low dielectric constant EMC test table was successfully delivered to the Hungarian Telecom Authority.
Technical data:
Dimensions: 80 x 150 x 80 cm WxLxH
Dielectric constant < 1.5
Fmax: 7 GHz
2007-07-25
Until the end of this year we build our own EMC laboratory of our own design. Its basis will be the 2 pcs of 3 m test distance anechoic chambers.
We start to provide EMC test services from 2008.
2007-07-24
It was sucessfully handed over to ELCOTEQ Hungary the 80 dB modular shielded test chamber of our own design.
2006-09-18
Intertek ETL SEMKO
has commissioned
T-Network Kft
to undertake factory inspections in Hungary on their behalf. The purpose of inspections of manufacturers' production control system is to verify that products which are to be issued with a mark of approval are the same as the products already tested, and that they all comply with the applicable standards. T-Network Kft now performs factory inspections at Hungarian manufacturers who have products certified with Intertek ETL SEMKO's S Mark and the ETL Mark.
The S Mark
The S Mark is exclusively provided by Intertek and a symbol of electrical safety and evidence to customers that Intertek has independently tested and certified the product's compliance to applicable European Union legal safety requirements.
The ETL Mark
Intertek's ETL Mark is a safety mark which is recognised all over North America. It indicates that the product has been tested by an accredited third party testing laboratory, and meets the applicable safety standards and minimal requirements for sale or distribution within North America.
About Intertek ETL SEMKO
The ETL SEMKO division of Intertek provides access to global markets through its local services, including product safety testing and certification, EMC testing and performance testing for customers in such industries as domestic appliances, HVAC, cables and wiring accessories, industrial machinery, medical devices, telecommunications, lighting, automotive, semiconductors, building products and electronics.
2006-09-16
- The German company
CONVERTRONIC
became the member of the
ELTEK
group.
T-Network Kft. offers from now the inverters
CONVERTRONIC
.
FLATPACK 2 HAS ARRIVED TO HUNGARY!
One size fits all!
The Flatpack 2 is the ultimate building block in any telecom application. Its power density and cost efficiency makes it ideal for loads from 1 kilowatt to several 10's of kilowatts. With horizontal airflow, there is no limit to how many shelves of rectifiers can be stacked on top of each other, and other equipment can be mounted directly on top. Fully flexible, extremely compact: a single rectifier module that covers all your DC power requirements.

It can be mounted into cabinet, or subrack.



T-Network Ltd. has implemented an EMC chamber in MEEI
From the 3rd quarter 2005 the first Hungarian anechoic chamber available for all domestic and foreign companies. The chamber is suitable for the complete EMC tests.

The chamber is independent from the weather conditions and outer noises, it has minimum 60 dB shielding effectiveness.

The inner space is covered by ferrite tiles and special cellular structure absorber elements providing together the standard reflexion free test conditions.

The EMC chamber is suitable for the EM emission and immunity measurement of smallsize and medium size industrial, medical, IT, telecom, optical, home appliance and similar equipment.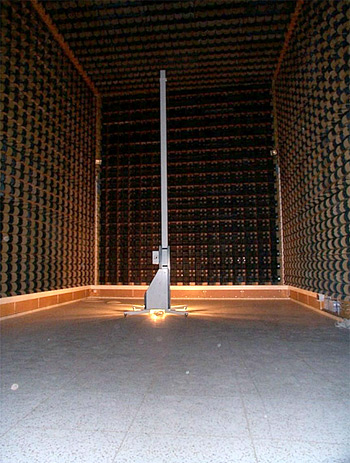 Main technical parameters:
| | |
| --- | --- |
| Dimensions of the chamber: | 13,5m x 5,3m x 5,8 m |
| Test distance: | 3m and 10 m |
| Shielding: | min 60 dB; 30 MHz -18 000 MHz |
| Site attenuation: | ±4dB according to MSZ EN 50147-2 |
| Diameter of the turntable: | 2 m ø |
| Max. load of the turntable: | 500 kg |
| Entrance door size: | 2,2 x 2,2 m |
The data and the photo is from the Chamber opening invitation letter of MEEI.